Contact Us: Email: tnthorse@eoni.com or 541-856-3356 or 541-519-7234
Visit & Join the Blog: http://horsemanshipjourney.blogspot.com
T&T Ranch Address and Directions: 15477 Sky Ranch Lane, Haines, Oregon 97833
Click Here to Download a PDF of Directions to the Ranch:
Directions East & West to T&T 09.pdf

T & T Horsemanship is dedicated to the belief that the development of true horsemanship requires dedication of time and understanding to fully comprehend what the horse has to offer humans. That horsemanship is an art form, and should not be limited to specific disciplines, but rather the development of a willing partnership between the horse and it's human. Then, the possibilities are endless!
About Alice...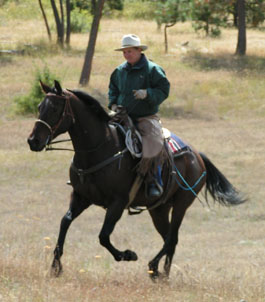 Biography: Alice Trindle was born on a ranch in eastern Oregon, the only daughter in a family of five brothers. She learned to ride behind the back of the saddle holding on to her brother's belt loops. In the past 20 years Alice has continued her relationship with horses, and had the opportunity to study with several true horsemen such as Tom Dorrance, Ray Hunt, Dennis Reis, and Bettina Drummond. She conducts clinics in Oregon, Washington, California, and Idaho, and offers multi-day horsemanship retreats at her ranch in eastern Oregon.
Alice's students relay that her presentation is informative, always based on developing a deeper relationship with your horse, and most importantly FUN! Working on the basics of positive attitude, balanced movement, combined with feeling for the horse, Alice leads aspiring horseman to a true partnership opportunity.
Look around, enjoy your visit. Here's What You'll Find:
Descriptions of Courses & Retreats offered at T&T Horsemanship Ranch
Clinic Descriptions - What you can expect & skills needed
Private study opportunities at T&T Horsemanship Ranch
About Staying with Us at the T&T Ranch...
In 2007, Alice and Susan added one more piece to their horsemanship dream - The Bunkhouse! Now you and your horse can come to stay in comfort, and join the comradery of the Old West in the bunkhouse. Complete with a nice big shower, and small food preparation area, you will feel right at home. You can see your horse in his large 16x32 pen right outside the windows. We will invite you in to our home for breakfast and lunch.