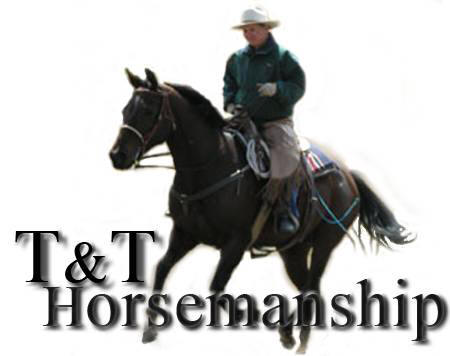 What's Coming Up...
Annual Women's Retreat - Sept. 13-18

Mule Clinic - September 27-29

Land of the Dorrence's - October 4 & 5

Colt Starting - October 11-15

NW Natural Horsemanship Center Clinic - October 24-26
New 2014 Tip for the Ride ~
Riding in the Halter with One-Rein
Call Today for more information and see how easy it is to ride all winter!
Check out the talent in this Travel Oregon video on the 7 Wonders of Oregon
Give yourself the gift of Horsemanship ~ Sign-up Today!
Take a Clinic ~ Cows & Mts. or Quadrille or Doma Vaquera or Mules

Arrange a Girl-Friend Getaway

Arrange a private lesson

Enter into 'Horse Study' ~ A Deep & Continuing Commitment
2014 Schedule for T&T Activities 3-17-14 Schedule.pdf

Follow Alice on the Horsemanship Journey blog and view all Tip for the Ride Videos http://horsemanshipjourney.blogspot.com
Become a follower to receive ideas on:
Lunging - Getting to the mind of the horse

Relaxing & Supple Exercises

Work in Hand - Step by Step

Specific ground schooling maneuvers

Why & How to use the Garrocha

Preparing your horse for the lariat
Click here to find out how to host a clinic: 2014 Hosting Letter.pdf