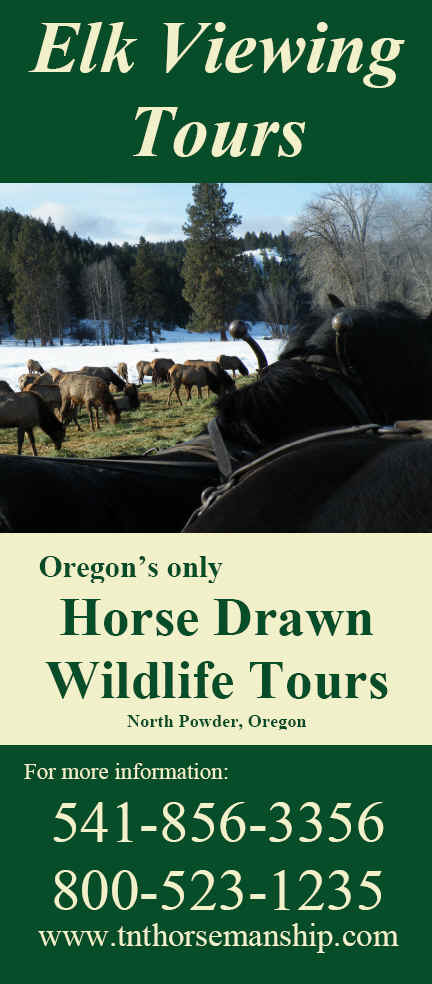 Click Here for a downloadable PDF brochure: 11-18-12 Rack Card front & back.pdf
Visit Us on YouTube:

http://www.youtube.com/watch?v=z858UzhIkXs
http://www.youtube.com/watch?v=R3s39oAq9-8
The 22 Years of Elk-People-Draft Horses and fun!
For More Pictures Click below and go to "Alice's Gallery":
http://picasaweb.google.com/atrindle/
Click Here for 2012-2013 News Release 2013 Elk Viewing News Release 10-27-12.pdf
T & T Wildlife Tours is pleased to announce their 2012 into 2013 Elk-Viewing Excursion schedule, PLUS special Holiday tours:
Tours are offered every weekend beginning December 15, 2012 and concluding February 24, 2013

Special Holiday Tours : Christmas Eve - December 24, 2012 (10am - 1pm pst)

New Years Eve - December 31, 2012 & New Years Day - January 1, 2013
The tours begin at approximately 10:30am, running every 1/2 hour, and last ride departs at 2:00pm. We carry visitors to within 10 yards of 100 to 250 head of Rocky Mt. Elk. Narration is provided by Susan Triplett and Alice Trindle discussing the life cycles of the elk, the reason for the feed program, and the partnership with the ranchers and hunters of the area. Cost of the tour is $6 for children (12 & under) and $8 for adults. Come early and dress for warmth! You may have a short wait before we can accommodate you on the wagon.
How to Find Us: T&T Wildlife Tours operate at the Oregon Department of Fish & Wildlife Anthony Creek feed site located on North Powder River Lane, 8 miles west of North Powder, Oregon. (Take the North Powder exit 285 off of Interstate 84, and proceed west following the wildlife viewing signs.)
Map Quest: 61846 North Powder River Lane, North Powder, OR 97867
For more information contact:
T & T Wildlife Tours at (541) 856-3356;
Cell Ph: (541) 519-7234
Union County Chamber at 1-800-848-9969
Baker County Chamber & Visitors Bureau at 1-800-523-1235