Description of up-coming clinics and retreats:
Come 'Celebrate the Horse' -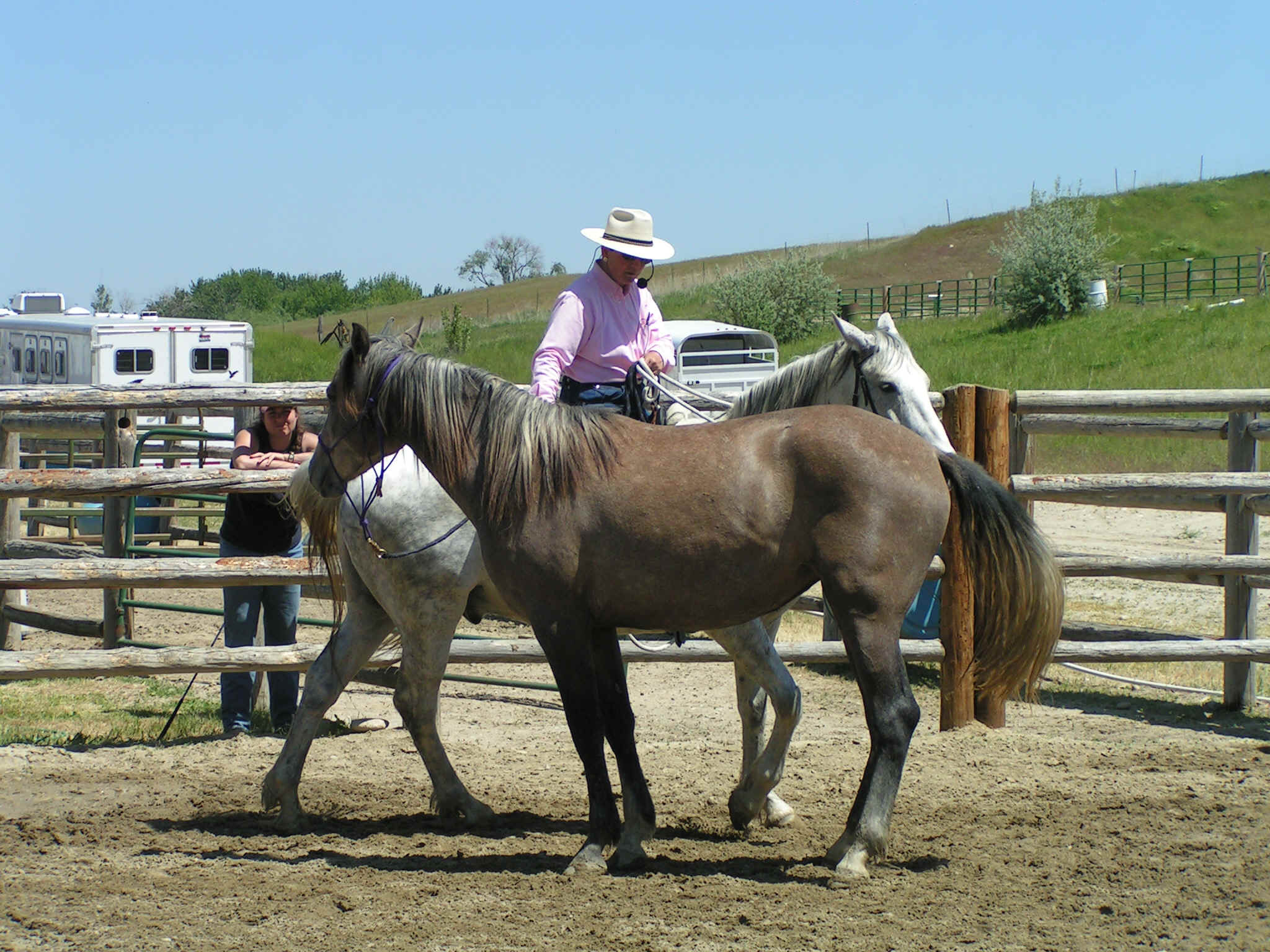 Friday's in La Grande - Group and Private Lessons
Focus & Format: Beginning April 28th at the Red Barn, and May 5th in Summerville throughout the summer and fall, join a group a crazy gals as they get together two times a month in the La Grande area for a progressive group lesson and/or private lesson.
April 29 & 30 and September 23 & 24, 2017 Work in Hand Clinic
Focus & Format: This is will be a shortened version of the typical 5-day clinic. offering an intensive look at the Work in Hand postures, developing self-carriage and self-confidence in both horse and rider. Maneuvers we will practice include: Shoulder-in on circle and on a square; Haunches -in and Half-pass postures on the track, on the diagonal, and on a circle; Liberty and on-line work with the surcingle; You will be offered the opportunity to bring a young horse, perhaps not yet under saddle, as well as an older schooling horse. We truly TAKE the TIME for both you and the horse to understand.
June 3 & 4, 2017 Focused Weekend Day Driving on Long Lines
Focus & Format: As we near pass into fall, it is a great time to finalize your summer of riding and begin to prepare the winter activities that you can do with your horse in all types of weather and riding opportunities. Depending on the groups desire, we may practice driving on the long-lines and some Work in Hand positions.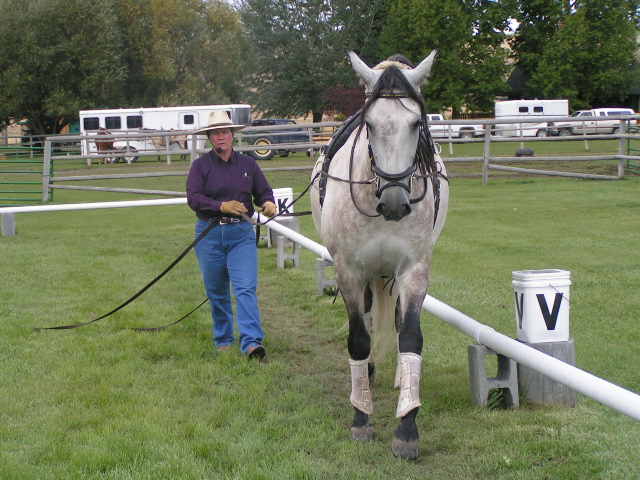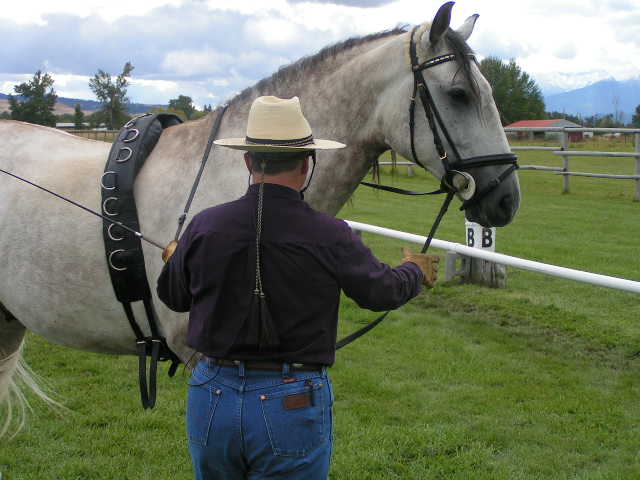 (Pending) Trainers Workshop
Focus & Format: Many people are interested in starting their young horses under saddle, but few people have taken the time to truly prepare themselves and the horse for a positive experience. Join Alice for weekend as she shares and demonstrates such topics as: Mindful use of the round pen; Use of the lariat, flag, whip and other tools; Working from atop another horse; Proper ponying - not dragging! Tools to evaluate a horse for purchase. This will be a great opportunity for anyone planning on taking the Colt to Horsemanship clinic, June 19 - 23, 2010, or for folks looking to expand their colt training skills and awareness.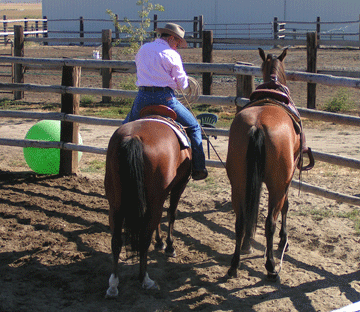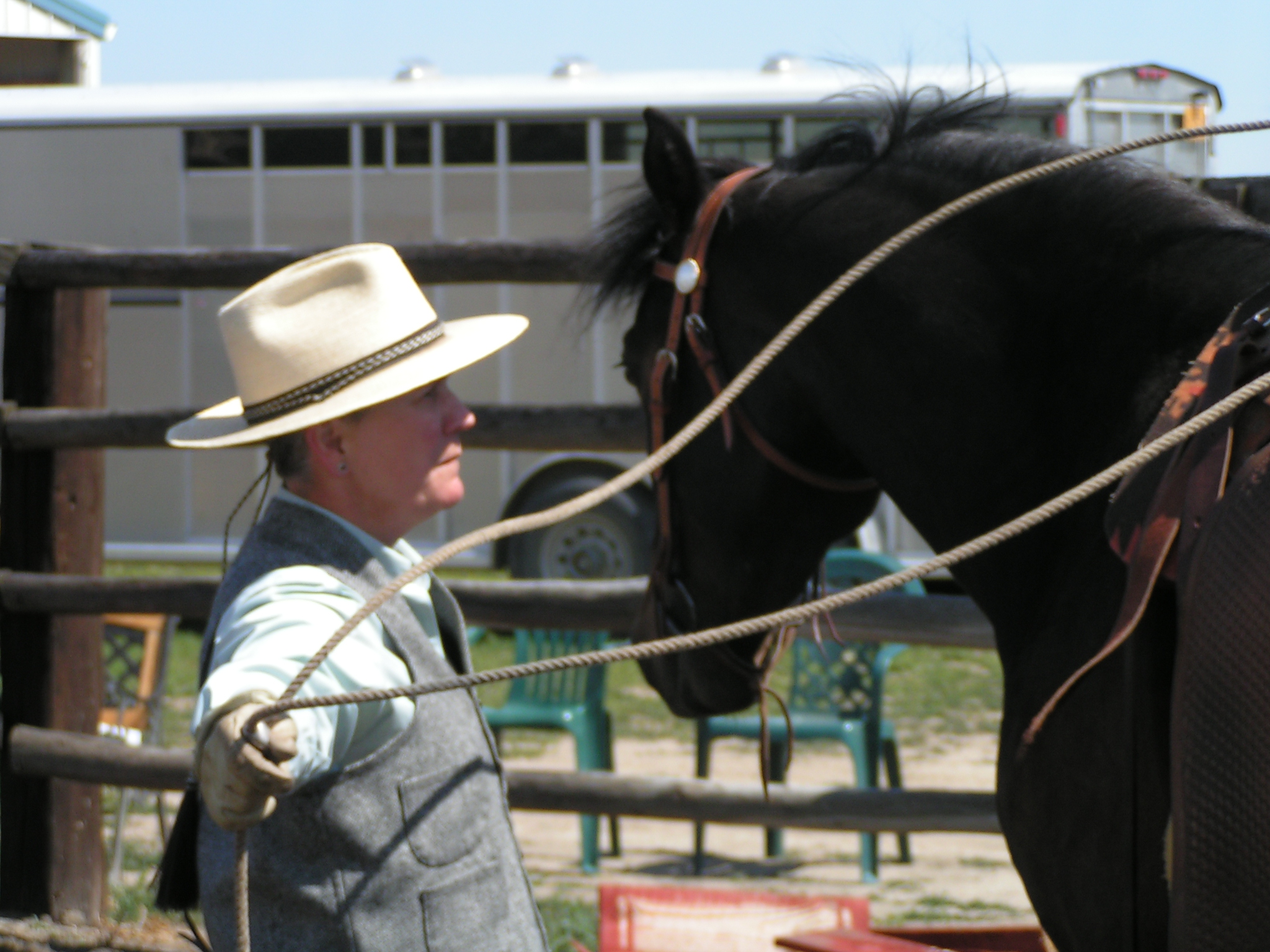 June 19 - 12, 20167 4 Day Colt to Horsemanship
Focus & Format: There simply is not a better opportunity around to put a soft, willing start on your young horse, or to re-start with the proper foundation. The focus is on taking the time for the horse and human to understand how to work together, and to offer a variety of situations that allow the human to become a good leader. Round pen work; Lariat, ropes, flags, tarps, car wash, bridges for obstacles; Working from atop another horse; Herd work; Surcingle & liberty; Format: Alice will work with the young horses in the morning, while everyone observes, for at least the first few days. In the afternoon, students work the same skills on their schooling/older horse. Later in the week, the students are working with and riding their colts. Fun...Safety...and Understanding!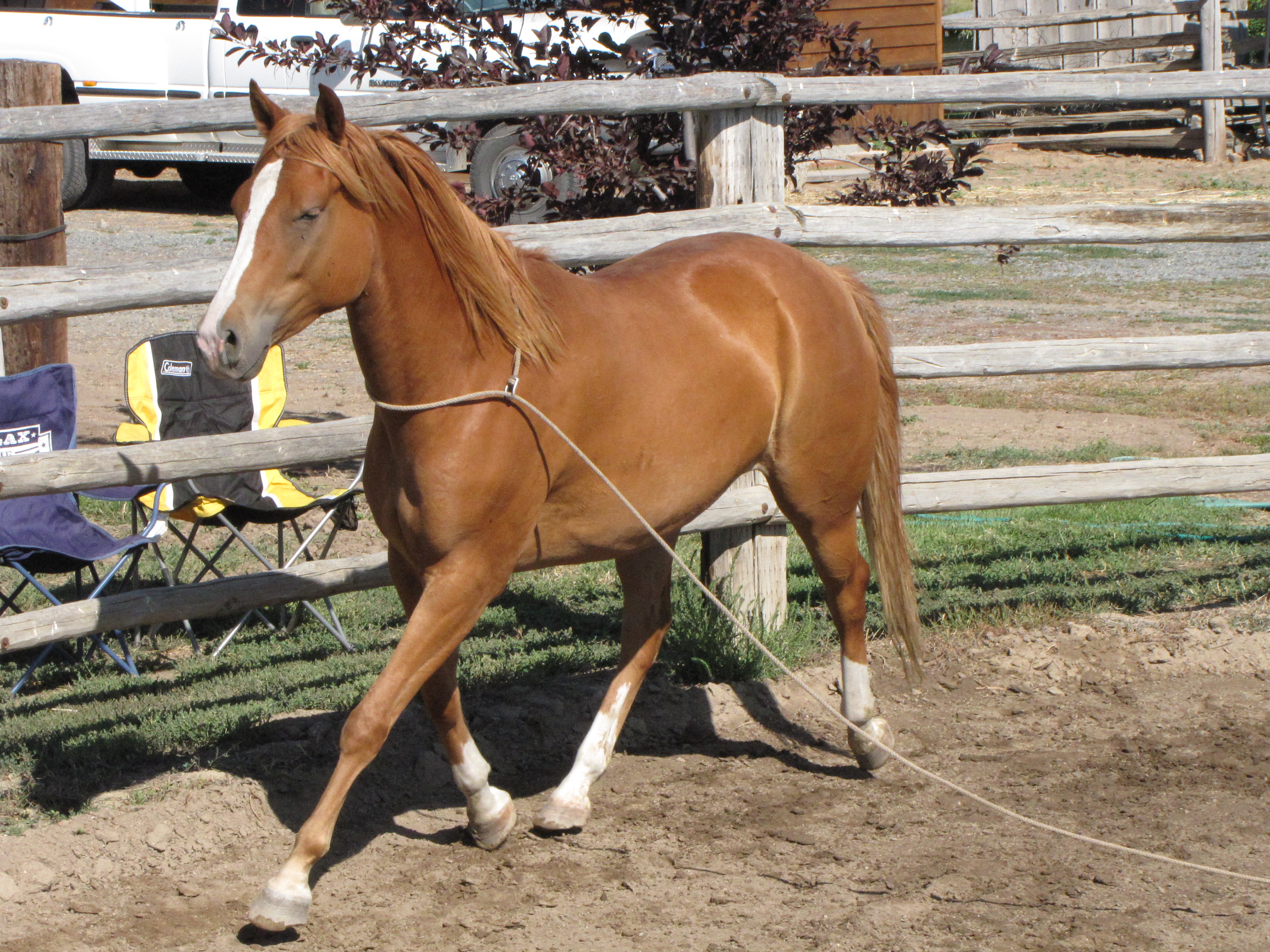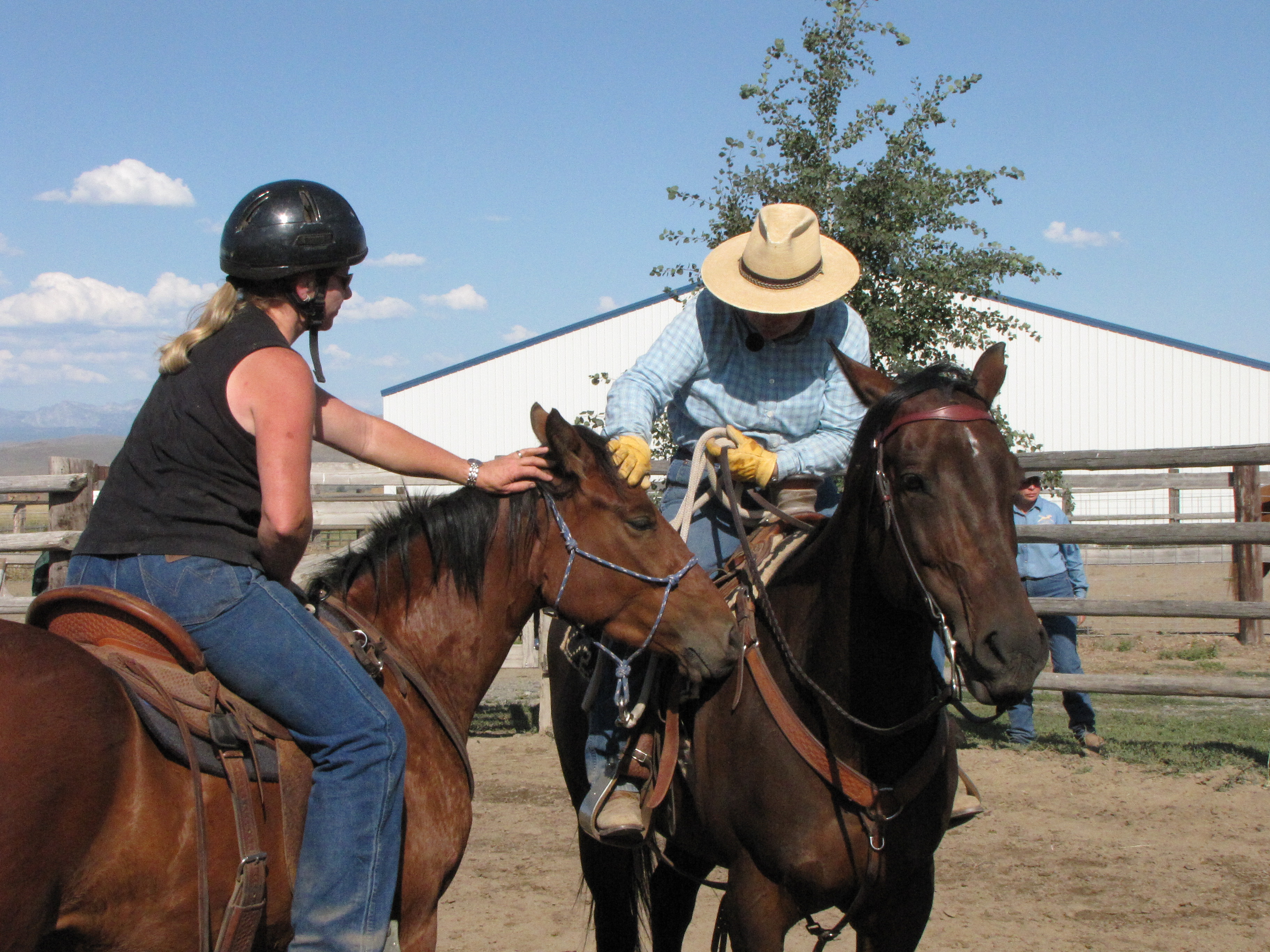 July 8 - 10, 2017 ~ Cows & Mountains Retreat
Focus & Format: Three to five days of great fun, connecting your horse to cattle work, and then relaxing for nice afternoon mountain rides. You and your horse will learn how to read cattle, position for effortless haunch-turns, develop a 'rodera' in the big field, and cut cattle from the herd. Slow, easy, and true ranch-type cattle work. Then enjoy the Elkhorn Mts., cantering up hills, and extraordinary views.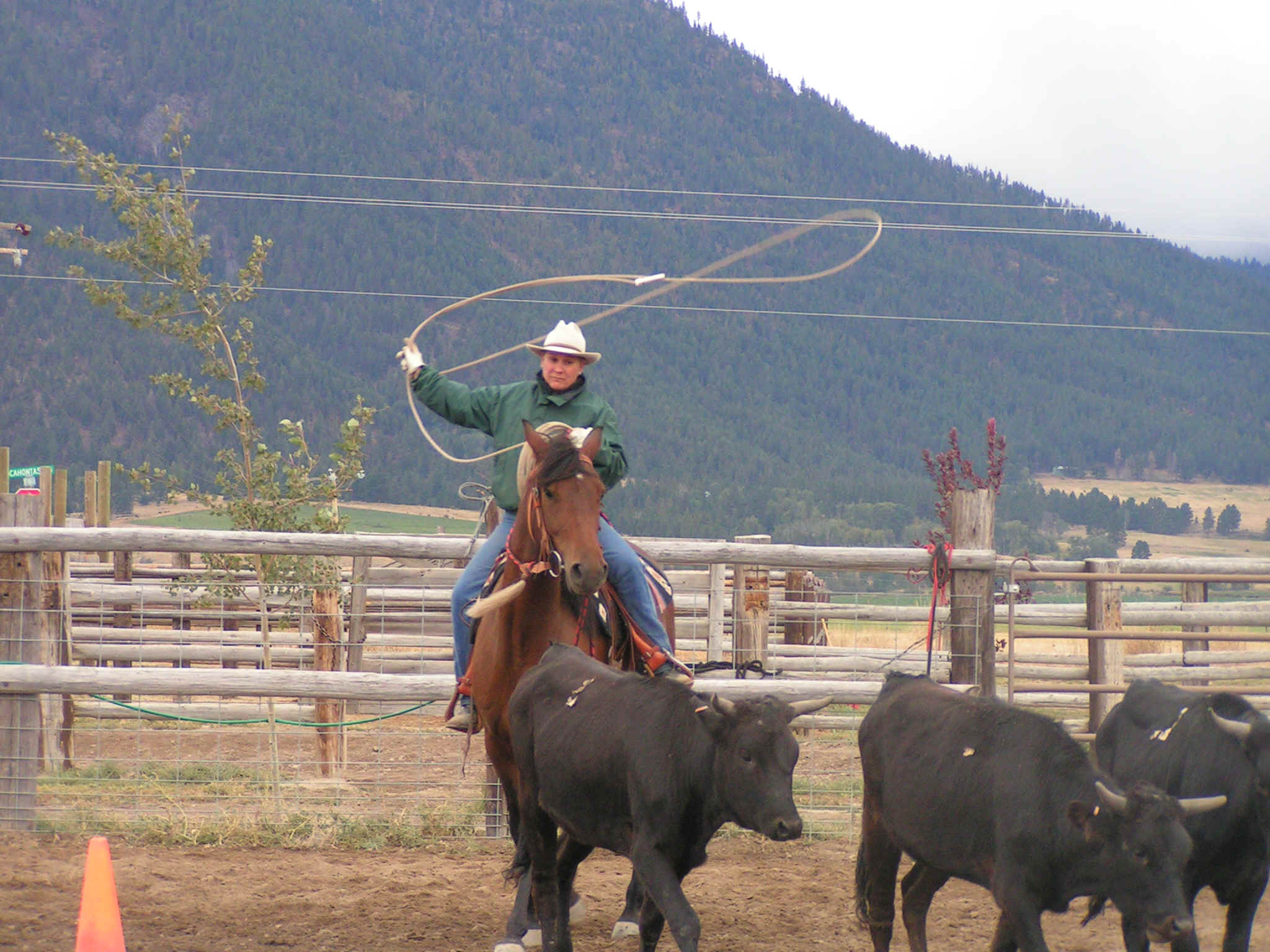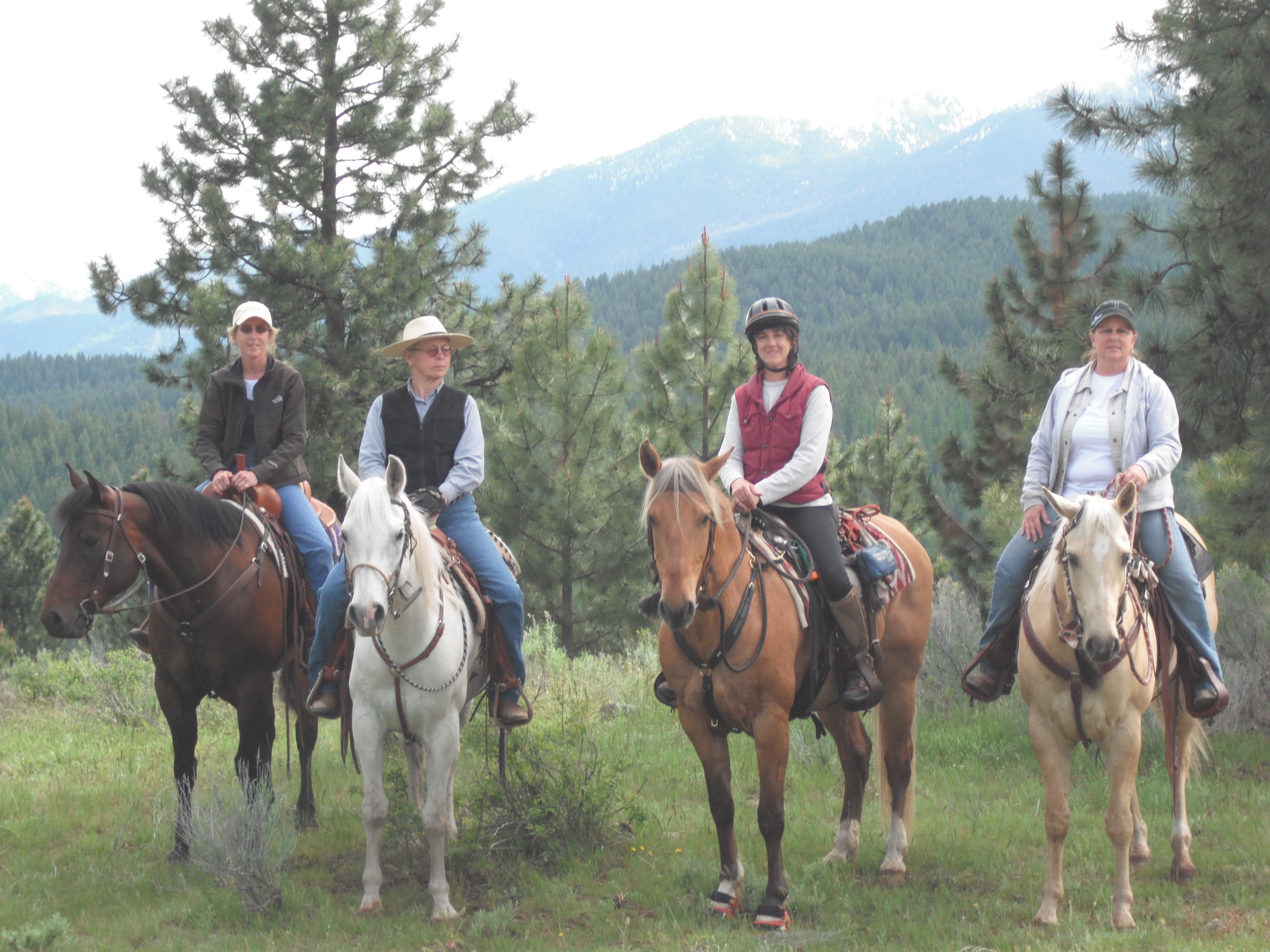 ~ Real Mountain Trails - 3 to 5 day experience
Focus & Format: The fun and challenge of riding your horse through a trail course is an ever growing desire of many aspiring horsemen and women. Alice takes you to the "REAL" mountains to go through creeks, travel down gullies, ride through down timber, and catch glimpse of wild elk, deer, turkeys, owls, hawks...well you get the idea. It's the real mountains!
August 5 - 7, 2017 ~ Doma Vaquera Clinic at T&T Ranch
Focus & Format: This will be a fun weekend to learn about the traditions of the Doma Vaquera - The Spanish Cowboy. Alice will walk you through the traditions of the Doma Vaquera basico patterns, and the garrocha. She will work with the group to develop a willing partnership with their horses, both on the ground and in the saddle, to develop the basic movements. Everyone will dance with the garrocha, and ride a basico pattern.
~ Annual Horse Swim Party!
Focus & Format: will gather the region's aspiring horseman for the annual T&T Horse Swim Party. Mountain ride - Horse Swim - BBQ & Story Telling!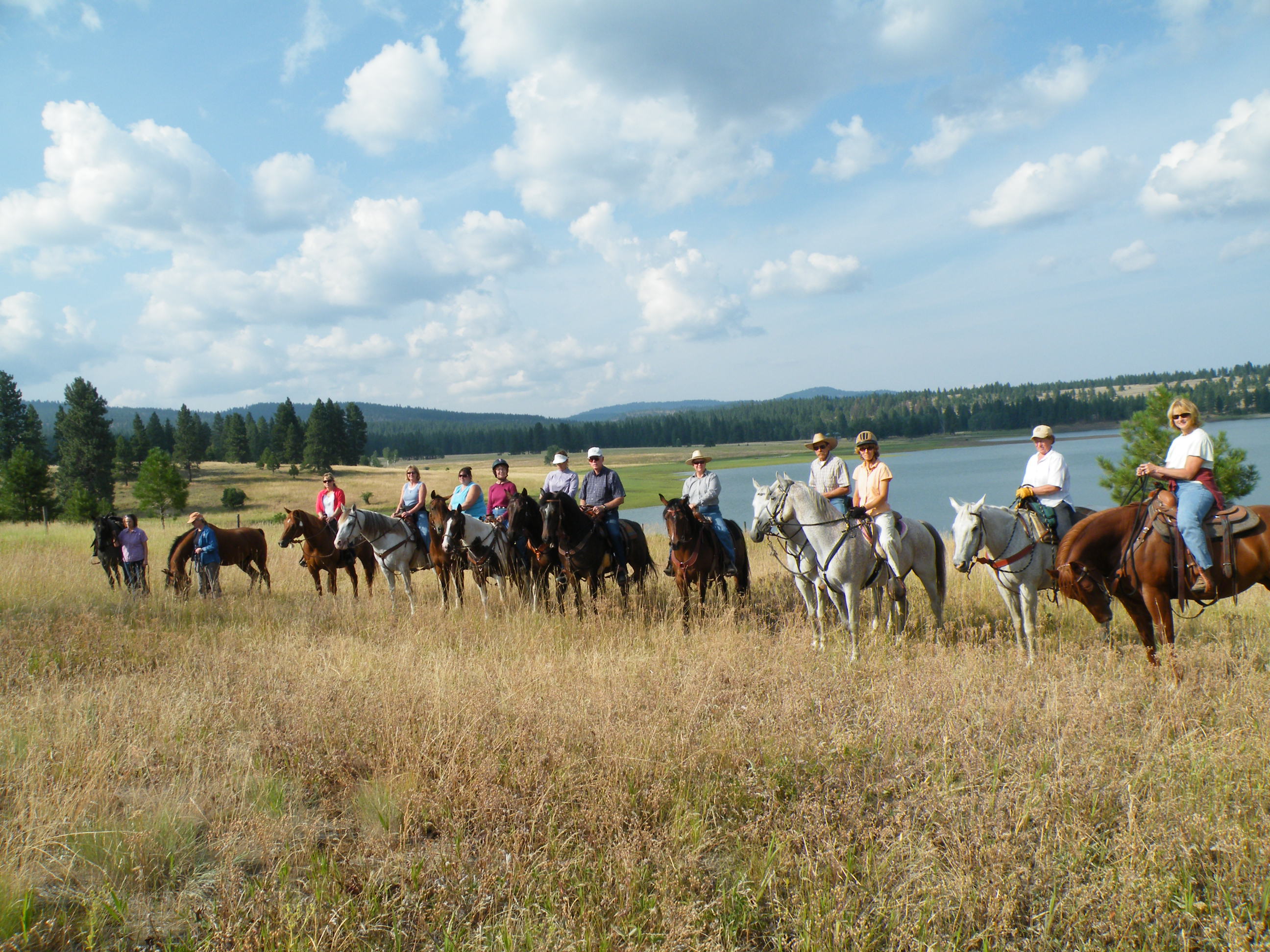 September 9 - 13, 2017 ANNUAL WOMEN'S RETREAT
This 6-day retreat has become an annual favorite, with gals returning year after year! We play with cows, jump logs in the mountains, and tell great stories in the evening around the fire. Life-long friends are made, and everything that is shared in Haines...Stays in Haines! This year we will continue the format of giving each participant a private lesson, with a focus on learning, thinking, picturing, and developing 'feel' for and with the horse. In a nutshell...developing our "Horseman's Protocol" into a habit. IT IS SO MUCH FUN...GALS, PLEASE COME JOIN US IN HAINES!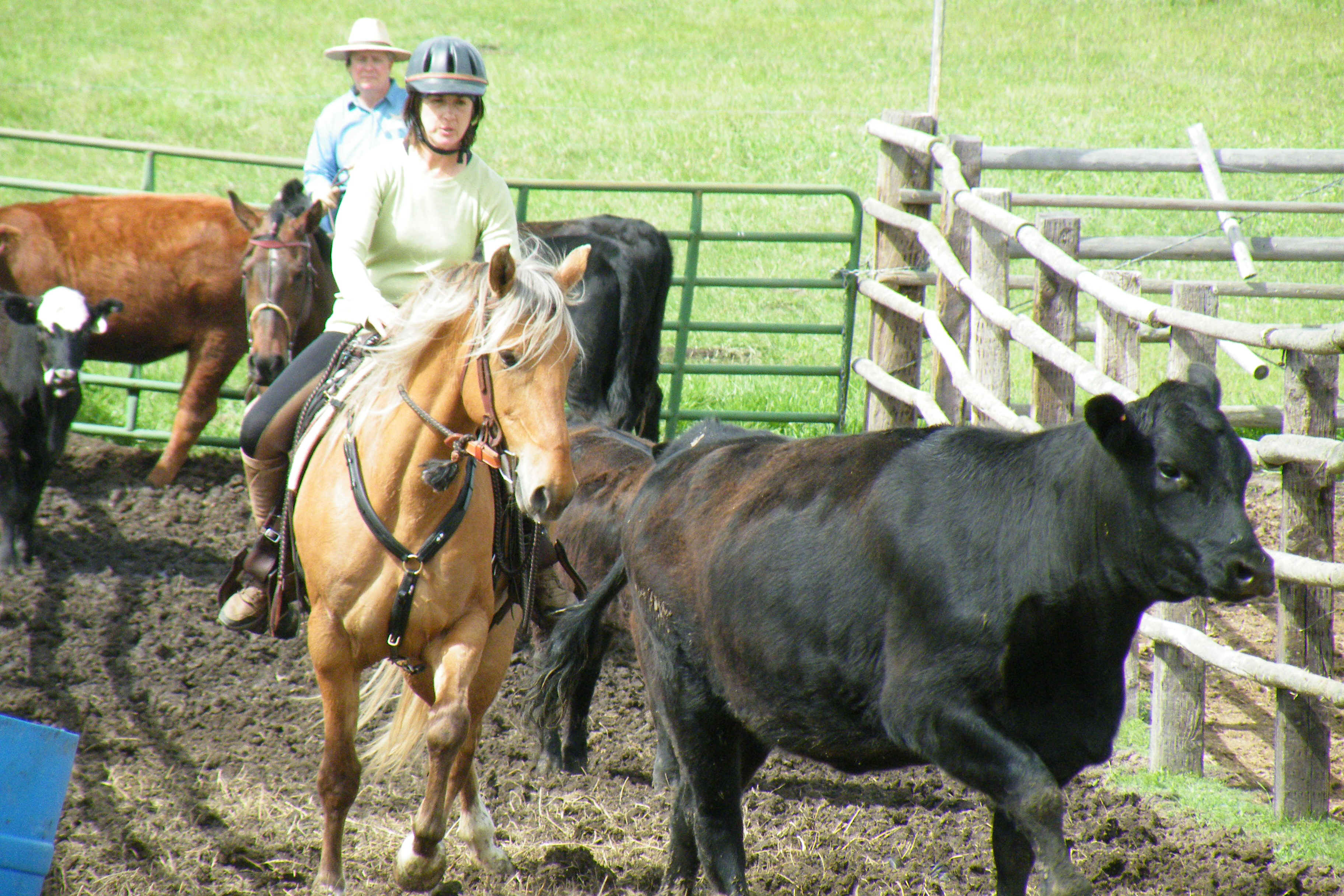 September 2 - 4, 2017 Land of the Dorrance's
Focus & Format: For many of us, our American "Master Horsemen" are Tom and Bill Dorrance. Their influence on the relationship people are developing with their horses is truly amazing, considering their humble roots right here in northeastern Oregon. In this two-day experience we will start on Saturday with private lessons for the 8 participants. On Sunday, we will trailer to a beautiful location with views that were the heritage of the Dorrance brothers, and ride as a group across the rangelands. This will not be a "Trail Ride" without instruction! As most you know who have ridden with Alice in the past in the mountains or in the big fields, she never is lacking fun group exercises that take advantage of the environment, and ultimately work on every aspect of good horsemanship. The Dorrance Brothers will hopefully ride on our shoulders and help guide our inner voice to listen to the horse. Space is limited to 8 riders.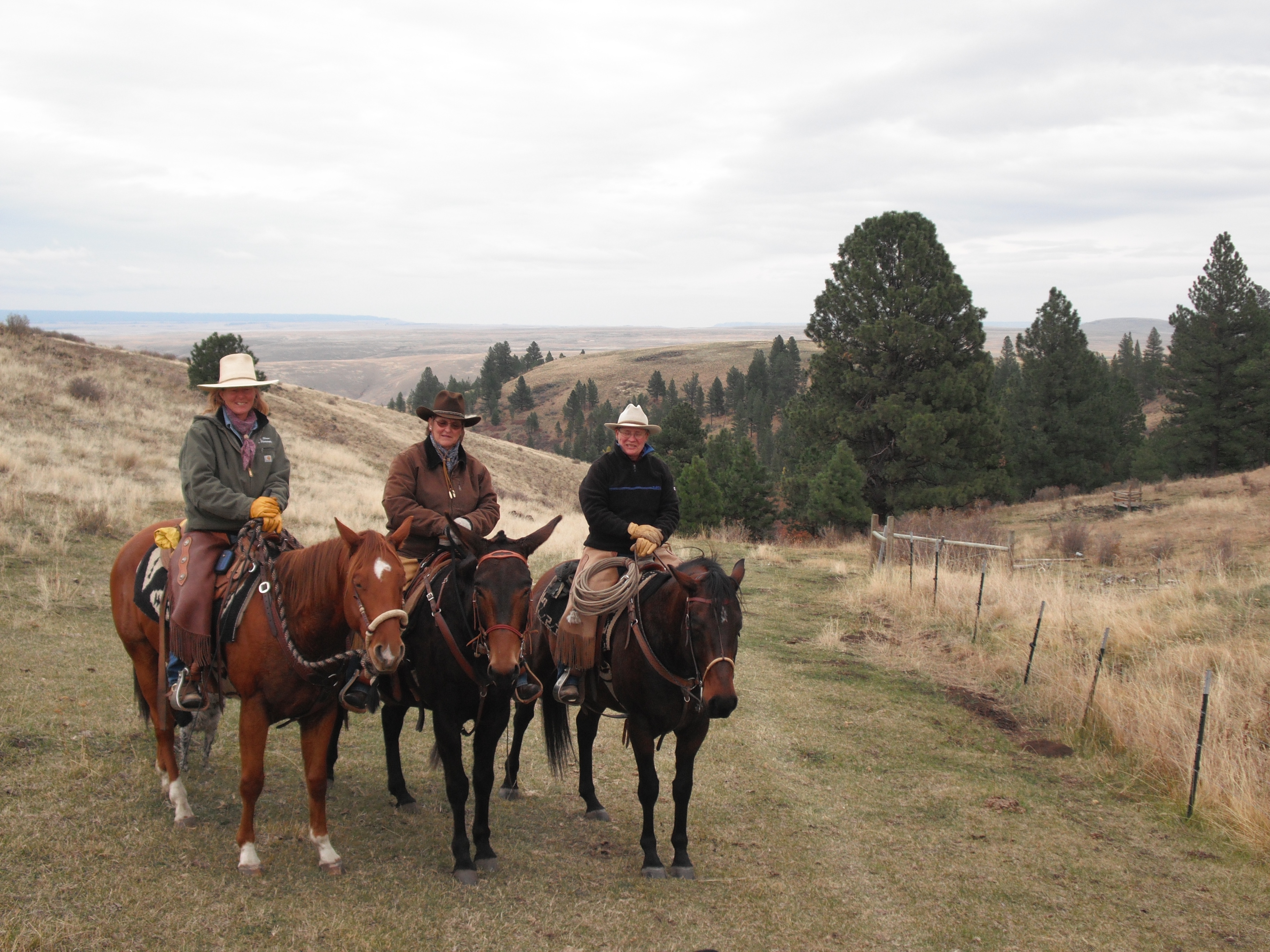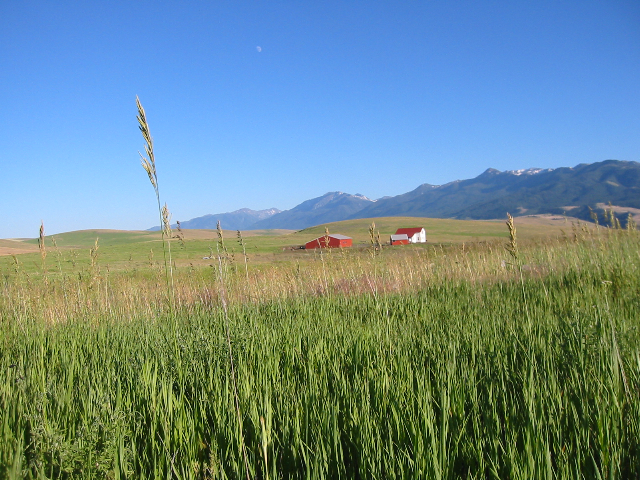 2-Day Riding Clinic TBD, Idaho
Focus & Format: This will be an INTRODUCTION clinic tailored to fit everyone's needs in the morning sessions for a three-day period. The morning clinic will be for people who may be new to Alice and just starting or newly returning to the pursuit of horsemanship. Time will be spent on ground school maneuvers, and the riding portion will work on transferring those basics up into the saddle. Afternoon sessions will be with returning students and be focusing on preparing horse and rider for a summer full of riding. Rhythm, balance, and relaxation will be primary themes, with lots of exercises to develop those skills for the team. Sign up at the Idaho Expo to receive a special Expo price!
~ 2 Day Dressage Clinic At T&T
Focus & Format: Alice is often amused by folks who seem to think that "Dressage" is an English saddle and specific way of riding. Well not in the T&T play book! Dressage is the art of training your horse and the movements developed in Classical Dressage are ones that biomechanical develop the horse and rider to prepare them for many jobs horseback. Western Dressage is nothing new to Alice...she has been pursuing a great depth of knowledge in Classical principles through her studies with Bettina Drummond and her intense reading and observations of the subject. Come discover what an 'ol cowgirl has to say about such principles as: Work in Hand, shoulder-in, half-pass, canter work and more!
pending 3 Day Quadrille / Group Riding Clinic Haines, Oregon
Focus & Format: This will be the first time Alice has offered a clinic totally focused on group riding or military/quadrille-type patterns. Of course we often have group riding to specific patterns, with music accompaniment in many of clinics, but this clinic with focus on the patterns, rhythm, timing, and great fun of working as a big team. Groups such as drill teams, or 4H clubs looking to add to their finesse should consider coming over as a team.
pending Fall Retreat ~ Relax, Unwind, and Reflect
Fall is our favorite time of year. The colors of eastern Oregon are brilliant. You need a sweater in the mornings, but by noon you are toasty in the autumn sun. It is a time to reflect on the year, enjoy the harvest of Oregon's bounty, and enjoy good friends and horses. Come join us for six full days of treating yourself and your horse to ranch life. We will do some schooling in the morning, aimed at developing a soft and willing partnership in both human and horses. Then the afternoon will be off to the mountains, or out in the field & pen to play with cows. The bunkhouse, with all its comforts will be waiting in the evening, along with the great food Susan has become famous for sharing! Come immerse yourself in the culture of Eastern Oregon for a mental, emotional, physical, and spiritual experience.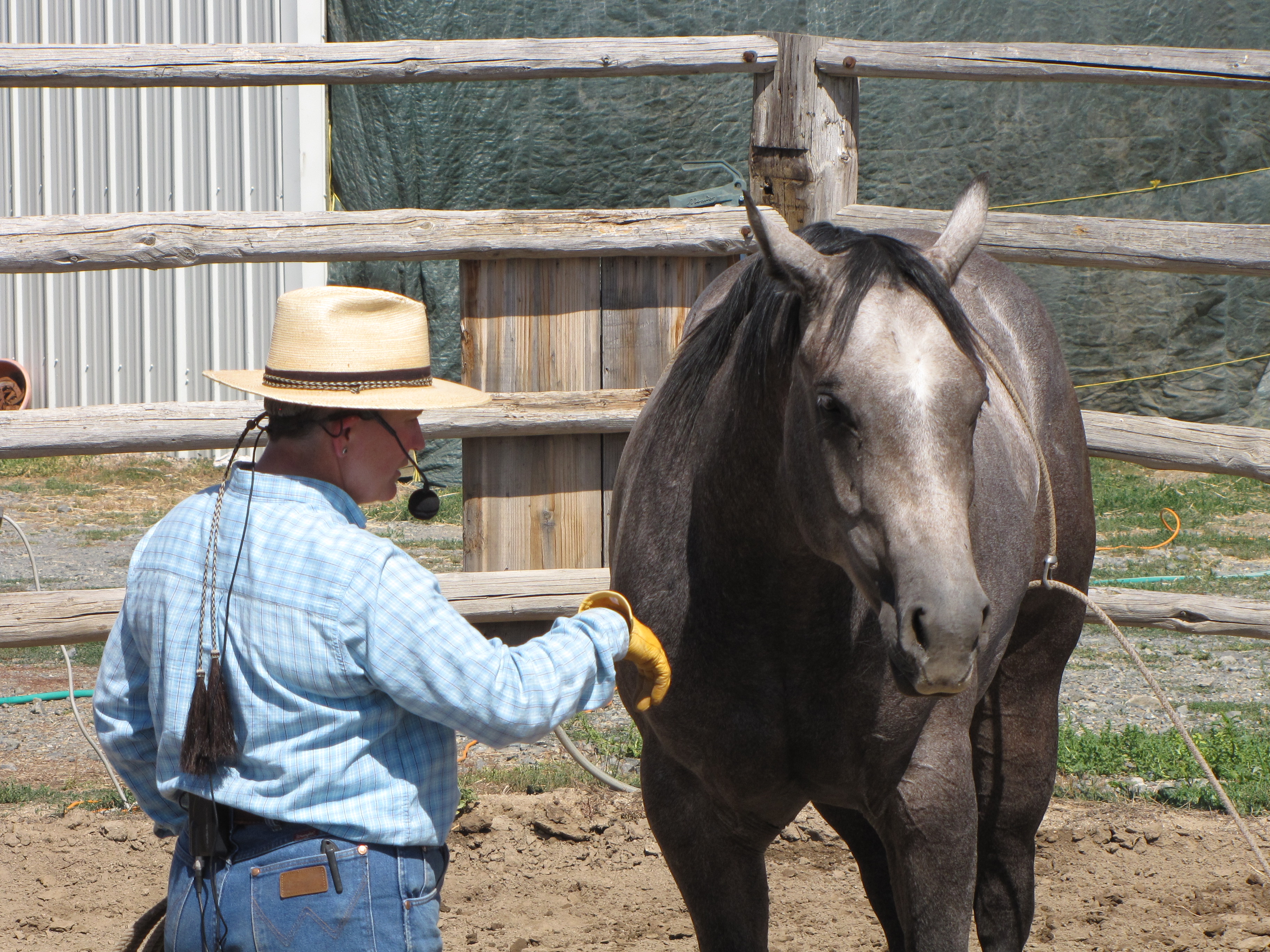 pending 3 Day Mule Clinic
Focus & Format: Over the years Alice has had several clients that ride mules who have participated in a number of clinics. In 2012 we even started two or three mules and a donkey (yes, a donkey!) in a fall Colt Starting clinic. So in 2013 we had the pleasure of seeing those clients return, along with some old friends from Idaho, including mule trainer Laurie Warren. The result was a firm decision to offer an annual Mule Clinic, just for the long-ears! The principals are all the same, but with a great awareness towards the smartness of the mules, and our ability to set it up for success. Fun...Safety...and Understanding...Yippee for the long-ears!
J
(pending interest) 2-Day Liberty Work Clinic Haines, Oregon
Focus & Format: This will be the first time Alice has offered a clinic totally focused on developing your liberty work skills. We will look at the principles of working with no strings attached in the round pen, in the larger square pen environment, and without fences. Several round pens will be available for people to work under Alice's guidance all at one time.
pending Girl Friend 'Getaway' at T&T
Focus & Format: Here's a great opportunity to GET AWAY with some your friends, spend time laughing, riding, and enjoying the the beautiful environment of Eastern Oregon. Gather together with a few of your friends for a private time at the T&T Ranch sharing the western bunkhouse, eating Susan's wonderful meals, Marion's deserts (just a few!), practicing safe horsemanship with Alice, and taking in the beauty of eastern Oregon. Come over on July 4th to experience the Haines area celebration, and stay for the weekend.