Newsletter
2021 Reflections…Be Grateful!
Click HERE to read the entire 2021 Reflections Newsletter.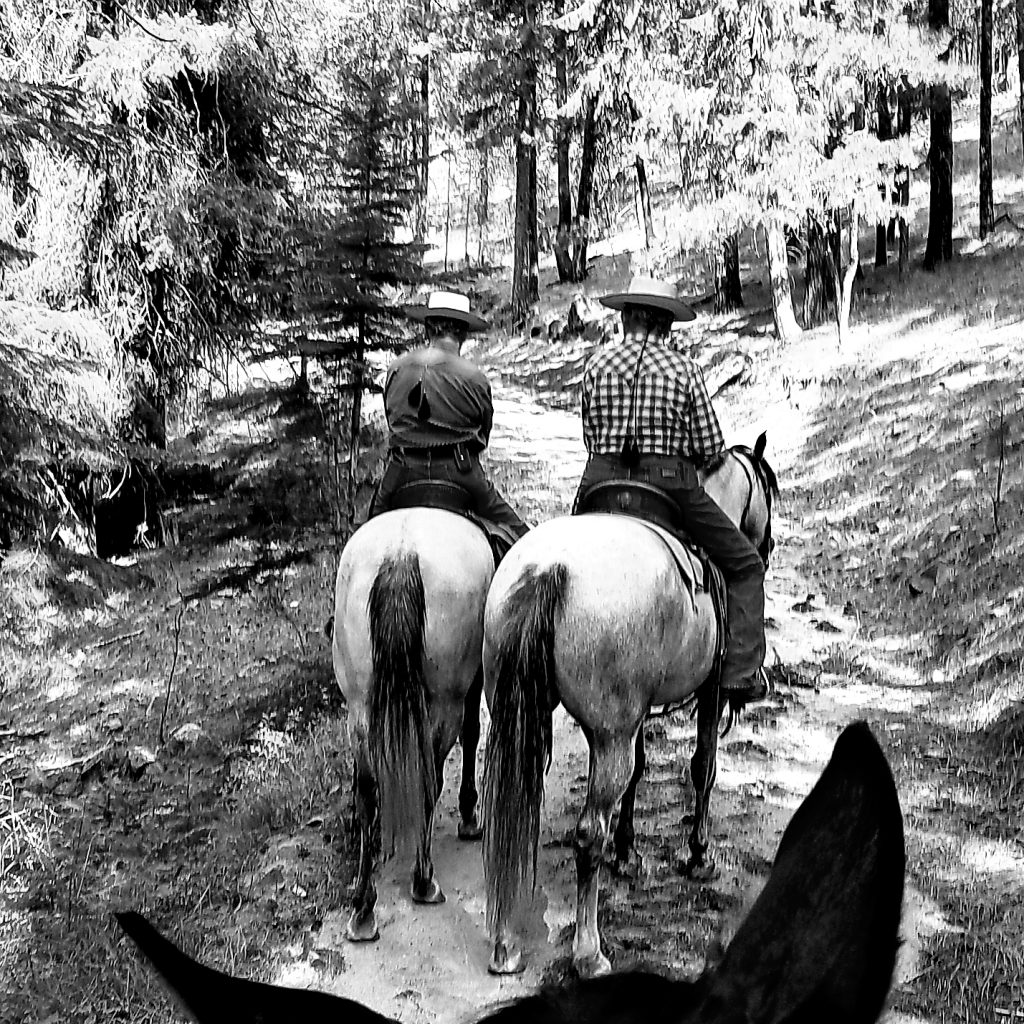 ~~~~~~~~~~~~~~~~~~~~~~~~~~~~~~~~~~
2020 Reflections
Choose Joy!
Click HERE to read the entire 2020 Reflections Newsletter.
What a year it has been. I guess we could just start and finish with that statement, but in doing so we would miss the opportunity to share all the things for which we are grateful and the lessons learned during 2020. As I sit here reflecting on the 2020 theme of 'Choose Joy' I am struck by the poignancy, given that the theme was chosen in December 2019 long before the start of the pandemic. It is amazing to me how often these annual horsemanship themes have played such valuable roles in my life. For 2020 I found myself time after time 'choosing joy' and when the world moved into despair, it was again horses and friends that brought me back to joyful gratitude. Makes ya think there just might be a plan! So here we go…a few items that stick out for my 2020 horsemanship (life?) journey:
The year started out so well with skiing Thursdays, Friday, and Sunday every week. Susan has turned into an absolute ski bum and makes sure that we get up and head to the mountain for first tracks. Great enthusiasm for truly a sport she took up in earnest at age 63!
As spring and summer set in, we set out to enjoy the living quarters horse trailer and some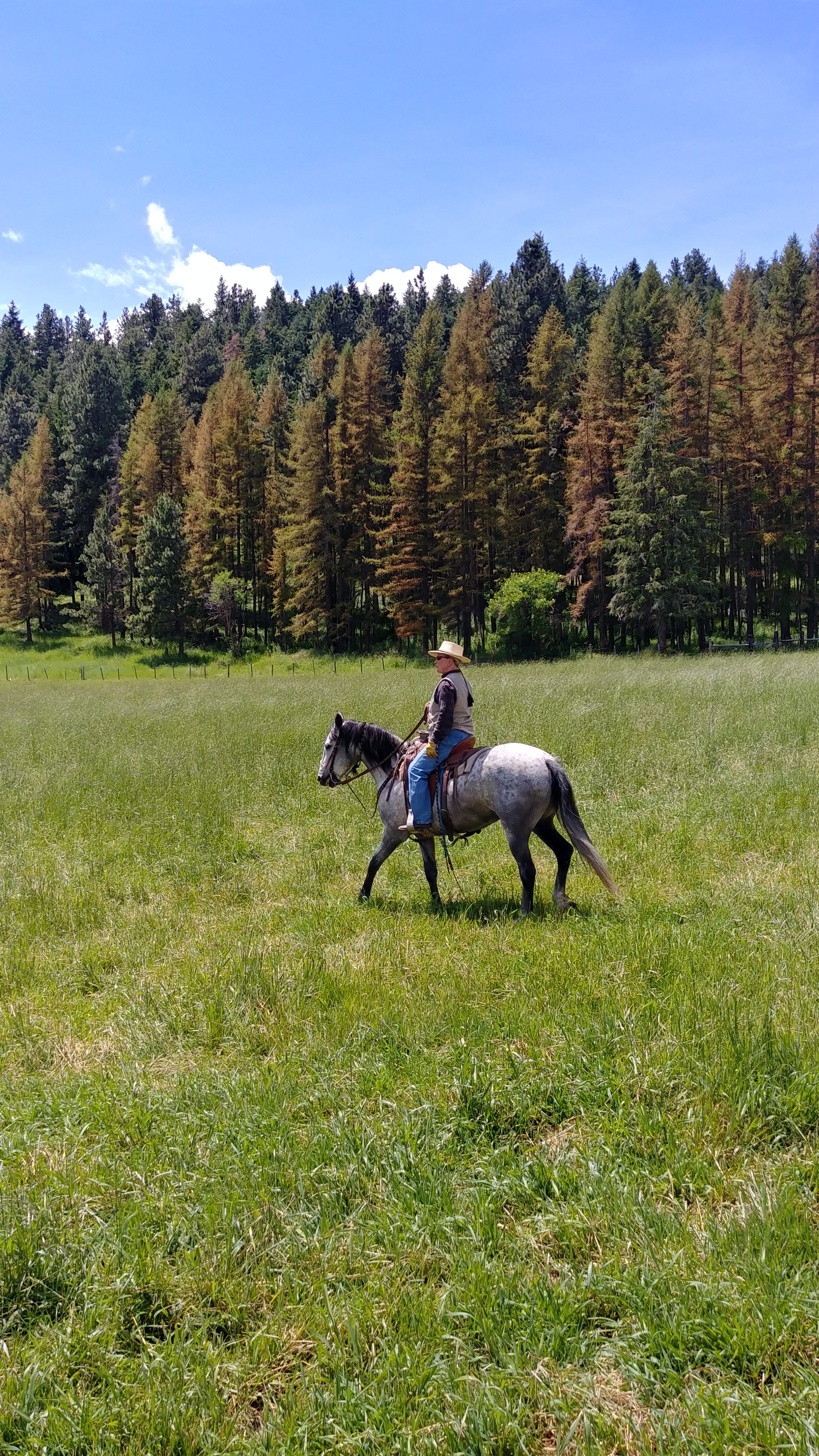 great rides with the horses in the mountains near Haines. No traveling with LQ but camped at the park near where we use to feed the elk. Our friend Rachel and her dog Copper accompanied us in their little trailer. Rachel rode one of our horses, Rocio, which freed me up to put some valuable time on the little 4-yr. old, Adagio. We figure between the camping and just riding trips to the mountains we covered over 300 miles. So much fun, laughs, and being "IN" nature…surrounded by it, observing its wonder, and sharing with happy horses that constantly give back. What a treat… What joy…What freedom!
My big lesson for 2020 was related to being in the moment and constantly reflecting on just how fortunate I am. Looking at all the turmoil, sadness, and true despair happening in the greater world, the divisiveness of the election, and need for empathy…at times I found myself embarrassed by my personal good fortune. In the end I realize that developing true caring, taking action to help others, and forgiveness moving to healing, comes from within. It comes from 'choosing joy' first and then moving forward. Sounds like a horsemanship lesson plan. Once again, the horses are guiding the way to seek balance in all that we do!
Most of all for 2020 Susan and I have been simply grateful. Our health is good, we are surrounded by an amazing environment, blessed with horses, kitty cats, and wildlife that continue to guide us daily, and fortunately a small group of friends who made up our safe bubble. With this list we are full of gratitude for all that we have been given.
We 'choose joy'!
As we look forward to 2021 with hope – FULLnes, I am listening to the horses for the 2021 horsemanship theme. Here's what is resonating:
Reflect and Rejoice Daily!
May this find you all with a moment of joy in your lives, and our wish is for that joy, reflection, and rejoicing to continue daily in the New Year. Alice and Susan
~~~~~~~~~~~~~~~~~~~~~~~~~~~~~~~~~~~~~~~~~~~~~~~~~~~~~~~~~~~~~~
2019 Reflections
Be Open to 'Being in Love'
Click HERE to read the entire 2019 Reflections Newsletter.
As I sat last month listening to Christmas music, sipping a cup a tea, and watching the wind blow the trees outside, I was drawn to so many random thoughts about all that transpired in during the year of 2019. Loyalty…Friendship…Simplicity…Gratitude were just a few of the themes whirling around like leafs trying to find that perfect place to land with a measure of grace-fullness and expression. Unlike reflections of years past, I am having some trouble truly connecting all the dots to see how the 2019 horsemanship theme of 'Openness to being In Love' played out in my life.
The year started with major changes in my life, my passions, my employment, even my identity. After 35 years of service to the eastern Oregon visitor industry I was asked to resign, having been informed that it was felt I could no longer provide the leadership the organization was seeking. It was a blow in so many ways, and quite frankly one that I still have moments of anger and a small amount of resentment. I had dedicated a large measure of my self-worth and identity to my passion of sharing and developing our eastern Oregon story for visitors in a way that honored the beauty and heritage of this place I call home.
It took time, along with some truly incredible friends, as well as my horses, to come out of the fog and begin to recognize that the theme selected for this year was actually the
 balm needed to heal and thrive. Quite simply I

needed to reflect, minute by minute, on the value of simply being open to be 'In Love' – surrounded by it; sharing it; letting go of the anger, and seeking a place 'Of Love'.
The horses were my faithful comrades in this journey. I had so many wonderful rides in the mountains above our amazing home here in Haines. I loved being with my horse and friends in the meadow above Halfway by day and dancing at Pine Fest by night. During the 'Land of the Dorrence' experiences, I could feel the heritage of region while seeing the Wallowas at my right, the Seven Devils to my left, and the Zumwalt Prairie rolling out in front. As my friend Juni Fisher sings…I saw the world not just through the ears of my horse, but also through their eyes. Moment by moment. Giving time to just 'Be'. Allowing myself the opportunity to be 'In Love'. What started out as a year in despair turned into a year of wonderful introspection to explore the depths of the word 'Love', and relaxing to listen to the answers minute by minute.
So what has been resonating for the theme worthy of year-long reflection of 2020? What could we focus upon for our personal life and horsemanship journey? Well this concept congealed a few weeks ago while listening to a sermon at our little Haines church. We had been talking about the truly difficult circumstance folks faced in the early days of the Christian faith. Their daily lives involved persecution and starvation, political discord, imprisonment for what they believed or the color of their skin. Sounds like the unrest of our world today! And yet, those folks made a decision to 'Choose Joy'. It is amazing the outcome, if we just decide to not get roped in and then dally-up around the horn of hate. So in 2020, I am going to try to 'Choose Joy' when I feel myself going in directions that don't serve my heart, my soul, my being – well. I invite you to…
CHOOSE JOY!
~~~~~~~~~~~~~~~~~~~~~~~~~~~~~~~~~~~~~~~~~~~~~~~~~~~~~~~~

2018 Reflections
~ Seeking Peace ~
Click HERE to read the entire 2018 Reflections Newsletter.
Oh what a ride in pursuing the 2018 horsemanship theme of…Seeking Peace. It seems to me that it was around every corner, in every aspect of my life, and more than I care to admit, I found my internal voice saying, "I'll be at peace once everything falls into place", rather than listening to the horses and friends – my true spirit – saying "Start with peace, then everything will fall into place". Time and again however, I was gently reminded to take that deep breath, look around at all of the things for which we have to be grateful, go back to basics, seek 'balance', and amazingly…Peace was found!
It is not with surprise that those are the very themes that have become true to me after completing six years of Horse Study. I have witnessed an incredible group of seven women, who are now graduates, as they committed to a four -year plan to study the horse. The insight, wisdom, and knowledge that we all shared in this journey will forever change and shape our lives. I am extremely proud to have been allowed to share, and that you and your horses were kind enough to stick with me, even though at times my blankets had a burr or two, the ground poles seemed high, and my 'musical elements' were out of rhythm. You were there; You showed up; You remained loyal and together we experienced developing the 'Art of Horsemanship'. Thank you!
Now as we turn to 2019, what are the horses saying we should focus upon for this upcoming year. What are those little gems of wisdom we need to recall, reconsider in our daily lives, while being open to new understandings, new directions and paths? What is a theme we can return to daily to ground us, guide us, and ultimately repair and replenish us?
Well here is what is resonating with me … Be open to being "In Love".
Think about for a while, then get back to me with you thoughts. I am anxious to find myself in a state of 'being in love'…surrounded by good energy filled with gratitude, hope, strength, and in a state of peace.
I look forward to riding with you all in 2019. I invite you to come be 'In Love'.
Click HERE to read the entire 2018 Reflections Newsletter.
~~~~~~~~~~~~~~~~~~~~~~~~~~~~~~~~~~~~~~~~~~~~
2017 Reflections
~ Seeking Lightness and Joy ~
My journey during 2017 in 'Seeking Lightness and Joy' has been centered on two primary
influences. First, the wonderful experiences gained through our Horse Study course coupled with the wisdom created by those amazing women and their horses. Second, my huge gratitude to Bettina Drummond and the Association for the Promotion of the Art of Horsemanship in America (APAHA).
2017 marks the graduation of the first class to complete a four year Horse Study. None of us would have painted this exact picture envisioning what we would learn, how it would change our lives, and full range of emotions that we have experienced, as we made the commitment in 2013. What a RIDE! Here are my final comments for each graduate…A combination of four years worth of 'One Simple Things':
Janine Franco ~ Your application of the principles created such beautiful success in true partnership with your horses.
Peggy Brennan ~ Your utter dedication to Ben (her mule) and constantly seeking to apply, feel, analyze, change, adjust, and grow will be inspirational to me always.
Arylnn Hacker ~ What an amazing journey! My admiration for your commitment to Sprite (her horse), to studying, and finding what resonates between you and your horse is very deep. Thank you for sticking with me!
Betsy May Crawford ~ Your deep love of the horse, and ability to listening to what they are saying as individuals, then applying with care, is your path to true horsemanship. Happy teams created!
Susan Triplett ~ I so enjoyed seeing your personal 'attitude journey' grow and evolve to establish an ever deepened appreciation of what the horse gives to you, in becoming a better human, and recognizing the pure joy of accomplishment, no matter how small.
My journey for 'Seeking Lightness and Joy' with my horses is very tightly wrapped up in my interaction with all of the amazing women and their horses that are involved with Horse Study. While this is not the end of the trail for our 2017 graduates, nor will it be for those graduating in 2018, it is the recognition that we have influenced one-anothers lives, and by so doing have created pathways to look for joy in all situations. We have given each other tools such as simply hearing the word BREATHE to give back in a tense moment or tight feeling. We have pushed ourselves to read, watch, study, and observe, then struggle to apply, and finally felt the joy of finding at least a moment of lightness…In movement, in attitude, in emotion, and in spirit. Yes, Horse Study has helped me to find joy and lightness, and I will be forever grateful.
Now, I know you are waiting with anticipation regarding the 2018 T&T Horsemanship theme. What will Alice be asking us to examine at every lesson next year? What will she be obsessed with as we look at our horse and human relationships? Well here it is…
Peace Be WITH You.
Start thinking about it. I can't wait to explore together with you in 2018.
 Alice
~~~~~~~~~~~~~~~~~~~~~~~~~~~~~~~~~~~~~~~~~~~~~~~~~~~~~~~~~~
Reflections on 2016
~  Seeking Thin Places  ~
 In 2016 our annual theme to contemplate was 'Seeking Thin Places'. It was an incredible year and what we discovered is that once you decide to find 'Thin Places' with the help of horses, it transforms your perspectives, your attitudes, and your realities.
What is a thin place? A thin place is a place of energy. A place where the veil between this world and the eternal world is thin. Here is just a small portion of the wisdom that came from seeking thin place
s:
Take longer and work really, really slow
Find ways to say "Yes" and to redirect the "No"
Words and their pictures create the intentions of your day/the moment
I loved these words with pictures: Allow, Patience, Perception to see the positive, stay present with a 'soft focus', confidence
It's our responsibility to answer "Why", to ask "Please", to keep a smile, and to say "Thank you"
Slow down and pay attention
Don't steal the horse's opportunity to comply
Contact is about inviting the horse to come into communion with you
Communion is a two-way conversation, with responsibilities to communicate on each side
Soft Eyes + Soft Heart + Soft Hands = Soft Feel
Every step counts
Momentum is our friend!
Expectations can lead to the experience becoming a chore
Horsemanship is fluid. It bleeds.
What an amazing world we live in, and what an opportunity we have to listen and learn and reflect, if we seek those 'thin places' where energy and the seeking of knowledge come together. Where we hear the voices of those on the other side of the veil and their spirit gives us direction. Listen…A life well-lived with the help of horses is calling!
Click Here for the entire 2016 Newsletter
~~~~~~~~~~~~~~~~~~~~~~~~~~~~~~~~~~~~~~~~~~~~~~~~~~~~~~~~~~
Trust in the Path ~ Reflections on 2015
Sitting here, one day before Thanksgiving, I find myself reflecting on many aspects of this past year, and on this particular day – the day that our faithful horse Chance got his wings – I am truly needing to believe in the 2015 theme of Trusting in the Path. This is not a new theme for T&T and I am quite sure it was a voice I needed to hear throughout this entire year.
We said farewell to my wonderful teacher Riddle this fall also. We raised her and from the time she was born she had a presence. Her horseanality was one of confidence, with a stride that could keep up with the Walkers, and a trusting attitude that always made me look so good. I remember a clinic in Corvallis, Oregon about 18 years ago, where Riddle and I were doing a presentation. Afterwards someone said of her, 
"That's a push-button horse".  My friend Adelle commented back to the statement, "And Alice put every button in there". I swelled with pride as I knew that Riddle was there as "MY" horse, and wanted both of us to do well. We had come to that place, that moment, together. She left this world to do some more teaching up in heaven, I am sure of it! All that she taught me and all we shared together allow me to Trust in the Path, even though my heart breaks.
When Chance came to us, it was meant to be! About twelve years ago we held a Colt Starting clinic in Haines. A neighbor attended, bringing Chance, an 8 year old grey Arab-Quarterhorse gelding, that had been started at age 4, but didn't have much work since that beginning. He was a gem! Beautiful black eyes, soft in his attitude and heart, with a real desire to do the right thing. The owner, Pat, sensed that there was a connection between Chance and Susan, and we were gifted this amazing horse. Over the years he never made a wrong move. He was Sabio's best buddy, and these last couple of years, he was a great teacher to hesitant riders. This summer he was Carla's savior by reintroducing her to the joys of riding outside the arena, in the mountains, with nature. What an incredible lightness he is taking into heaven, and I will love picturing him as that point of light, showing the way, allowing both Susan and I to Trust in the Path.
Read More…
Reflections on 2015 ~ T&T Newsletter